TBR Day. The Protected / Shiloh Walker. 2013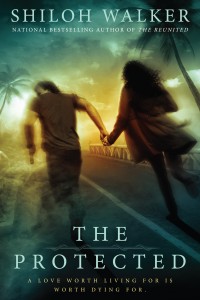 OK, this book has been in the TBR pile 3 weeks max because it was just published last month. But since it fits this month's theme--paranormal or romantic suspense--by being both, and because I was dying to read it, I didn't really look for anything else to read.
This book is part of
Shiloh Walker's
FBI Psychics series. The FBI Psychics are part of a task force that sort of flies under the radar. FBI officers with special psychic abilities work to solve various crimes. In this book one of the members of the task force, Vaughnne MacMeans, is charged protecting a young boy with strong psychic abilities that others want to exploit. Young Alex, along with the man watching over him, Gus, have been living on the run, hiding from criminals who want Alex. But Alex's untrained psychic abilities make him a beacon. Vaughnne wants to help keep Alex and Gus alive and teach Alex how to shield himself and use his gift properly.
Vaughnne is a woman who's been on her own since she was 18 and is coming off a very difficult case when this book starts. Gus has been on the run with Alex for several years now and trusts no one. He's tired and it bothers him to see the fear and anger in Alex. Vaughnne and Gus are immediately attracted to one another, but protecting Alex is their priority. So in this fast-paced book they are on the run from the bad guys (with help from other members of the FBI Psychic team), trying to create a safe and secure place for Alex, and dealing with their feelings for each other.
This is another great entry in the series. I really enjoyed it. There's lots of action, some hot romance, some interesting secondary characters, and I thought the psychic stuff was done pretty seamlessly. Frankly, though, if you're interested in this, I'd recommend that you go back to the first book, The Missing. I think there's a real interesting dynamic between the members of the team and you'd miss some of those nuances by starting here. Plus, I have enjoyed all of the entries in the series so far. Walker has created some interesting psychic gifts, so each book is quite different. I happily recommend this book today.